This month we challenged the Design Team with Life Stories by My Mind's Eye. We gave them papers, die cuts, journaling cards, buttons, twine, Prima ribbon and Basic Grey Eerie alphabet stickers. Tracey and Chevonne received the pink-red color scheme and these are their layouts.
LOVE, LOVE, LOVE Tracey's family tradition of making Reindeer Treats when putting out cookies for Santa! What an innovative use of the Life Stories Recipe paper. We also like how she tied in the use of glitter in her reindeer treats by using glittered Thickers alphabet stickers. While her pictures tell the story, her simple journaling completes the memory!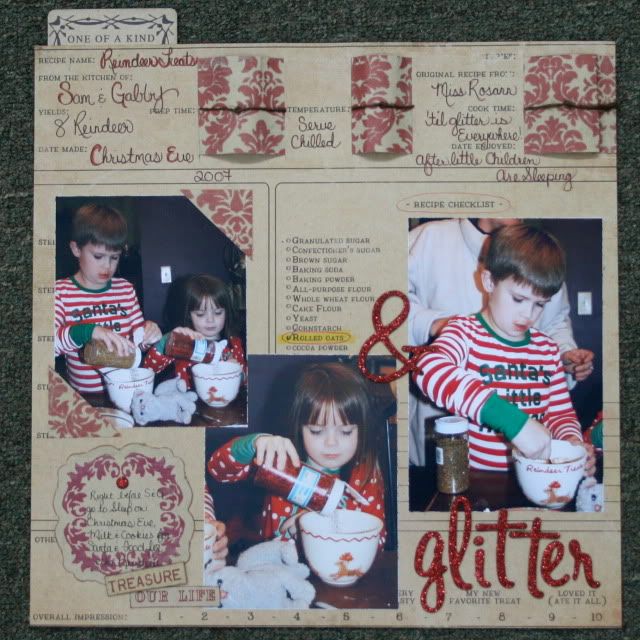 Each of the ladies was given gorgeous Prima ribbon and we really liked how Tracey saw tree trimmings in that ribbon. Notice how she incorporated a full piece of the ribbon and also cut it up to decorate her tree. We also found it interesting how she too outlined the letter stickers to make them pop (see Angie's layout from Part 1)!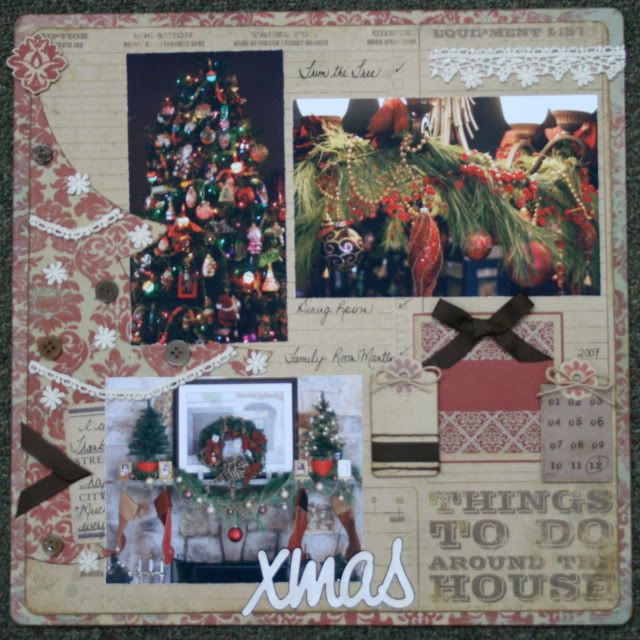 We always encourage including ourselves in our scrapbooks and how wonderful are these adorable pictures of Chevonne just being a kid while sitting for photographs. We really like how she incorporated her journaling as part of the background paper and used the words on the paper as part of her title. Actually, both Tracey and Chevonne utilized the background words in their titles. This paper line gives you lots of opportunity for doing just that!
Another thing we noticed about Chevonne's layouts this month is they are not about life events but capture a snapshot in time of the person. These little pieces of us help tell our story about who we are and what we thought. The journaling is simple but says volumes and will easily conjure up memories when Jen reads them years from now! We really liked Chevonne's use of a template to cut out the framing for her layout. The pattern paper against the kraft paper helps draw your eye right to the picture. Did you notice her handmade flowers? Very nice accent to the picture. Also, we have a tendency to group things in 3's when we scrap and you'll notice that she used 3 flowers and then used 3 buttons stacked to tie it together. The ribbon is a great anchor for her 3 elements; accent piece, photo and journaling!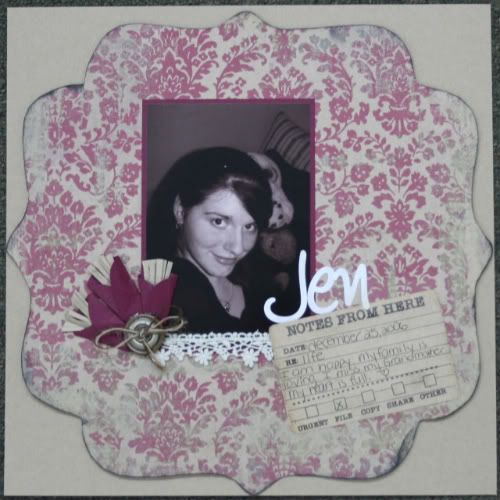 We hope you've enjoyed the Design Team's efforts this month and hope they've provided you with inspiration for not only design but journaling!
Next up for the Design Team is a line by Christine Adolph and one by American Crafts.
I think I may have finally figured out this blogging and posting pictures big enough to appreciate the details!
Sue